Best gaming mouse 2018: the best gaming mice we've tested
If you already have one of the best gaming PCs, you may want to pair it with one of the best gaming mice you can buy today. We know it might be tempting to scale back your spending after blowing all your cash on the best PC you could muster, but you just spent thousands on the best PC you could muster – why would you use anything but the best mouse? Do yourself a favor and pick up one of the best gaming mice, so that everything attached to that beautiful rig is of comparable quality. You may even want to grab one of the best mouse pads while you're at it.
When you go out to shop for a gaming mouse, you should consider any mouse that strikes a golden balance between price and performance – don't believe the myth that the most expensive product is the best. Just look at the SteelSeries Rival 600, our number 1 pick – it's not much more expensive than a game, but it balances this low price with a bevy of high-end features and great performance. 
Every single mouse on this list hits this golden balance of value. We've reviewed or tested and ranked every mouse on this list, and each has earned our coveted seal of approval – you should be confident that no matter which of these mice you choose, you'll be satisfied with it. No matter what kind of games you want to play, after going through this list, we believe you'll get your hands on one of the best gaming mice.
1. SteelSeries Rival 600
SteelSeries' return to glory
DPI: 12,000 | Features: Lift off distance detection, customizable weight, 60-million click mechanical switches
Customizable weight
Depth sensor
A little bit expensive
SteelSeries is experiencing a sort of renaissance in 2018, and there is no greater evidence of that than the SteelSeries Rival 600. Featuring customizable weight, the perfect amount of side buttons, and true RGB spectrum lighting the Rival 600 will be the centerpiece of your desk. But, even beyond the aesthetics, the Rival 600 performs far better than a mouse in its price range has any right to. Not only does it feature a 12,000 DPI sensor and satisfying mechanical switches, but the Rival 600 goes above and beyond and features a depth sensor that will all but eliminate cursor sway when you lift your mouse off of the mouse pad. This is truly the best gaming mouse you can buy today.
Read the full review: SteelSeries Rival 600 
2. SteelSeries Sensei 310
The best gaming mouse we've reviewed
DPI: Up to 12,000 | Features: Ambidextrous design, one-to-one tracking up to 3,500 CPI, 50-million click life span
Reasonably priced
Comfortable for claw and palm grips
No braided cable
Lacks sensor calibration support
The SteelSeries 310 is a gaming mouse like no other, in both price and performance. The low entry fee keeps it on the same level as what you would expect to pay for a new game, while its out-of-this world TrueMove 3 optical sensor makes it almost impossible to compete with. This mouse, with no preference when it comes to dexterity, is frankly unparalleled when it comes to real-world sensitivity. 
Read the full review: SteelSeries Sensei 310 
3. Corsair Dark Core RGB SE
The Qi to wireless gaming
DPI: Up to 16,000 | Features: Qi wireless charging, Interchangeable side grip, Omron switches, Fully programmable buttons, Dynamic multi-color 3-zone backlighting
Qi wireless charging
Affordable
Can't use while charging
For the longest time, wireless mice have been derided among gaming enthusiasts for their losses in latency and reliability, but with the Corsair Dark Core RGB SE – that's all changed. Boasting 1ms latency and a maximum DPI of 16,000 the Dark Core RGB SE defines what a wireless gaming mouse should look like in 2018 – delivering performance that's on par with its wired contemporaries. It even supports Qi wireless charging, which means if you pick up the Corsair MM1000 Qi mouse pad, you can charge your phone while you play, then charge your mouse right on your mouse pad when you're done.
Read the full review: Corsair Dark Core RGB SE 
4. Logitech G903
A G900 makeover with an electrifying mouse pad
DPI: 12,000 | Features: Wireless charging via Logitech PowerPlay mouse mat, up to 24 hours of battery life (up to 32 with LEDs turned off), PMW3366 optical sensor, LightSpeed Wireless technology
Solid build quality
Accurate and reliable wireless
Exorbitantly expensive
Undeterred by years of ridicule for their comparatively higher latency, the Logitech G900 of yesteryear proved once and for all that wireless gaming mice don't have to suck. Though it's merely a subtle iteration on that model, the Logitech G903 only reassures us of that conviction. Gracing a slightly altered G900 design with Logitech's own PowerPlay mouse pad that doubles as a wireless charger, the Logitech G903 is an expensive, yet rewarding investment. On one hand, the cost might deter someone who wasn't likely to buy it anyway, but on the other, you're getting a high-DPI wireless gaming mouse that contends with even Razer's best.
Read the full review:
5. Roccat Kone Aimo
DPI: 12,000 | Features: Multi-zone RGB lighting, 10 programmable macro keys, 4D Titan Wheel
Ergonomic buttons
Customizable
Dated pre-programmed macros
At first glance, you could be forgiven for assuming the Roccat Kone Aimo would be an unwieldy hardcore-only gaming mouse. You'd be wrong. Even with the plethora of buttons and mouse furniture sticking out, the Roccat Kone Aimo is a surprisingly ergonomic peripheral, which means comfort shouldn't be an issue for even the longest gaming sessions. Packed with one of the most in-your-face RGB lighting setups we've seen in a mouse, along with its 10 programmable buttons, this is one of the best gaming mice you can buy in 2018.
Read the full review: Roccat Kone Aimo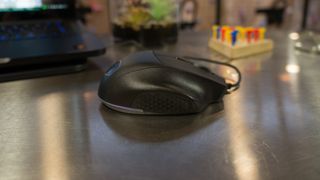 6. Cooler Master MasterMouse MM520
A decent mouse at a great price
DPI: 12,000 | Features: Customised for claw grip, Customizable DPI settings, Three-zone RGB lighting
 Good switches 
 Affordable 
 Questionable build quality 
If you need one of the best gaming mice, but are looking to save some cash at the same time – the Cooler Master MasterMouse MM520 might be what you're looking for. It won't win any beauty contests, but packing quality Omron switches and a reasonably sensitive sensor capable of up to 12,000 DPI, it's easy to look past the unappealing design – especially if you use a claw grip.
Read the full review: Cooler Master MasterMouse MM520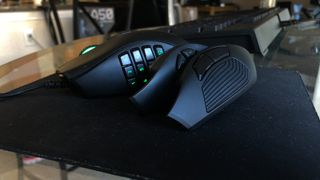 7. Razer Naga Trinity
DPI: 16,000 | Features: Interchangeable side plates, Razer chroma support, 1000Hz Ultrapolling
 Smooth motion tracking 
 Interchangeable side plates 
Expensive
If you're the type of gamer who doesn't like to settle for any one genre of game, it can be genuinely difficult to find the best gaming mouse. Luckily, the Razer Naga Trinity is here for you. The Naga line of mice has traditionally been aimed at MMO gamers, but Razer wasn't content to just appeal to that one niche with the Naga Trinity, and included 3 easily swappable side plates so that you can change your mouse to fit the game you're playing. Add in the insane 16,000 DPI 5G sensor and Razer Chroma RGB lighting, and you have a winning package.
Read the full review: Razer Naga Trinity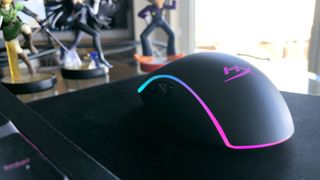 8. HyperX Pulsefire Surge
DPI: 16,000 | Features: RGB Light Ring, 50 million click-rated Omron switches
 Gorgeous RGB lighting 
 Omron switches 
 No customizable weights 
If you're the type of gamer who scoffs at the sometimes ridiculous gaming mice available in 2018, you should take a look at the HyperX Pulsefire Surge RGB. Boasting extremely reliable Omron switches and a beautiful RGB implementation on top of its fantastic 16,000 DPI sensor – you're getting a fantastic mouse for a bargain price. Plus, once you turn down the RGB lighting, it'll fit into any office.
Read the full review: HyperX Pulsefire Surge RGB 
9. Corsair Glaive RGB
A healthy balance of comfort, function and suave looks
DPI: Up to 16,000 | Features: Interchangeable thumb grips, three-zone backlighting, Pixart 3367 sensor, Omron switches, DPI status lights
Smooth motion and tracking
Glides like butter
Nearly all plastic
A bit pricey
It's obvious from the moment you look at the price tag that the Corsair Glaive RGB mouse was designed to go head to head with the Razer DeathAdder Elite. And while Corsair has had a ton of luck with its PC cases, keyboards, RAM, power supplies and cooling systems, a Corsair mouse is automatically a tough sell due to a lack of history alone. Luckily, the company's latest gaming mouse effort is built for comfort, featuring a coating of soft touch paint and interchangeable thumb grips that augment ergonomics even further. At that point, the nearly perfect three-zone backlighting system and high-DPI Pixart sensor (not to mention the niftily included DPI status lights) are a mere bonus.
Read the full review: Corsair Glaive RGB
10. Creative Sound BlasterX Siege M04
Precise and stylish enough to rival Razer and Logitech
DPI: 12,000 | Features: 7 programmable buttons using Omron switches rated for 50 million clicks, PixArt PMW3360 sensor with 1000Hz polling rate, RGB lighting, ergonomic design
Excellent sensor
Stylish lighting
Could be lighter
Balance isn't perfect
It's not everyday that we see a company known for its sound cards try to take on companies as renowned as Razer and Logitech with a competent gaming mouse of its own. Creative's Sound BlasterX M04 is exactly that, however, and it's actually fairly impressive. The 12,000 DPI rating means you won't need to use pointer acceleration to use the mouse successfully. The RGB lighting scheme, which is controlled using Creative's own Sound Blaster Connect software, is displayed across a subtle accent at the base of the mouse. Clearly, the Sound BlasterX Siege M04 is a winner in both function and style.
Read the full review: Creative Sound BlasterX Siege M04

How to choose the best gaming mice 2017 
Although you're bound to determine the best gaming mouse for you based on our rankings, doing so is no effortless task. There are a lot of complicated technical specifications that go into gaming mice, including fancy jargon such as polling rates and DPI ratings. You'll want a higher number of both, but there's a stark difference between these two nonsensical, yet crucial terms.
For newcomers to the world of PC gaming, that DPI is shorthand for 'dots per inch.' The higher the number, the wider the range wherein you can specify your how sensitive your mouse is. If you don't have a lot of desk space available and you want accuracy and precision, then opt for a gaming mouse featuring a higher DPI rating. Of course, you can always toggle a lower DPI too.
Meanwhile, a high polling rate gives you faster response times. The polling rate is measured in hertz, so it usually ranges from around 125 to 1,000Hz. The latter means that your mouse's position is reported to your computer 1,000 times per second. Other key gaming mouse factors you'll want to consider are ergonomics – particularly if you're left-handed – and RGB lighting.
Gabe Carey has also contributed to this article